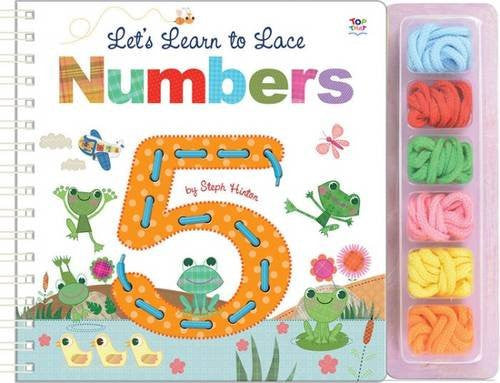 Let's Learn to Lace : Numbers
---
Get ready for writing and learn to count with the 'Let's Learn to Lace Numbers' novelty board book by Top That Publishing. Counting the numbers from 1 to 10 is introduced as boys and girls aged 3+ learn to lace through the die-cut holes on each page with the included strings.
Illustrated by Steph Hinton, this learn to lace activity book kit will help to improve children's hand-eye co-ordination and fine motor skills - a perfect activity for getting them ready to write and learning important early learning numeracy skills.
Five coloured laces are supplied with this title and are stored in a compartment on the cover. When counting and lacing play is over, the strings can be neatly stored in the compartment, ready for early learning fun next time.
Publisher:
Top That! Publishing Ltd
Author:
Steph Hinton
ISBN: 
9781784453008
Pages:
16
Format: 
Spiral Bound Board Book
Dimensions:
220 x 280 x 20mm 
---
More from this collection