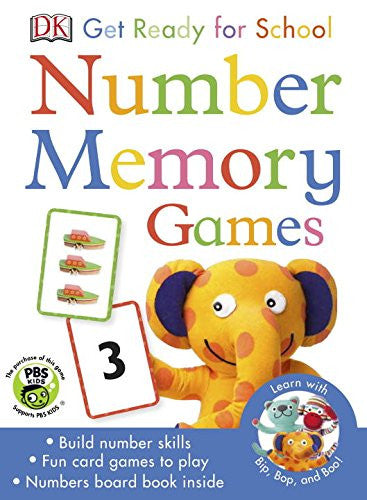 DK Get Ready for School Number Memory Games
---
Get ready to play, get ready to learn, get ready for school.
In Number Memory Games, cards show numbers 1-10 arranged in set order with everyday objects and number words to help toddlers practice adding and taking away up to 10, sharing, and grouping. The easy-to-understand visual approach focuses on real-life problem-solving activities, such as going shopping and playing sports.
These boxes of game cards are designed to support children's learning development through the early years. The guiding early learning developmental milestones of school readiness inform the content, supporting parents as they get a child ready for school. Each box includes 40 photographic cards and instructions to play a range of two-player games with ideas of games that a child can play to learn key skills. The colorful photographic cards will inspire and develop a confident, curious, and capable child. Parents will love using these games with their kids.
This new series of interactive books and games brings the brightest and best start to learning for every child. In Get Ready for School, key skills are developed through play, exploration, and hands-on experience. Each element of the series supports active learning through creative thinking, boosting confidence, curiosity, and independence. The series provides a solid foundation in reading, arithmetic, and writing, and supports emotional, social, and motor skills development.
Publisher:
DK Publishing
ISBN:
9781465436351
Pages:
40
Format:
Flash Cards
Dimensions:
144.78 x 198.12 x 27.94mm 
---
More from this collection