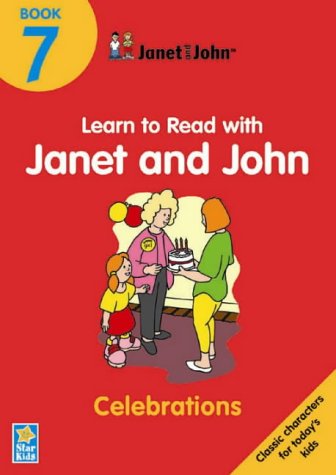 Janet & John Learn To Read : Celebrations Book 7
---
Helping your child learn to read and become a confident reader. Your child's introduction to reading.
Here is the solution for all parents and teachers who want to help their children become confident readers. 
3 stories in one - The Wedding, The School Party and Gran's Surprise.
Includes craft activities.
Clearly structured book progressively building child's vocabulary 

Comprehensive coverage of key words required for language learning. Key words  are those that make up most of the English language. They are often repeated for emphasis, and used with other phonic words - that is, words which can be sounded out by children. 62 key words

Written and reviewed by teachers, educationists and parents

Supports what your kids do at school
Publisher: Star Kids Ltd
Author: Penny Coltman
ISBN: 9781842580608
Pages: 32
Format: Paperback
Dimensions: 8 x 5.8 x 0.2 inches
---
More from this collection