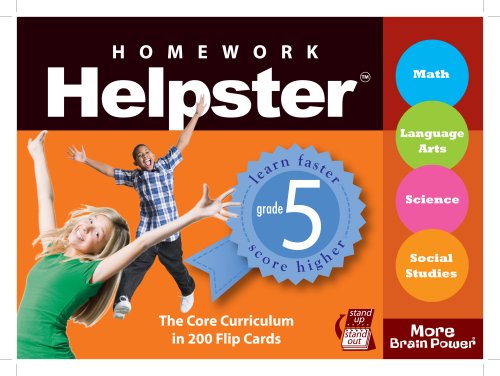 Homework Helpster Grade 5
---
A homework help flip card guide with core curriculum for grade 5. Give your child the best school help available with Homework Helpster for fifth grade. Featuring an easy to use stand-up, stand-out format, this guide includes the latest fast facts to make homework easier.
· The core curriculum in 200 full-color, at-a-glance flip cards
· 4 sections: Math, Science, Language Arts, and Social Studies
· Subject dividers make answers quick and easy to find
· Kid-friendly full-color maps, pictures, charts, keywords, and diagrams make learning easy
Fun, brief kids lessons provide math help, English help, science help, and more to build knowledge and reading comprehension. Compiled by fifth grade teachers using core curriculums and standards, each entry focuses on a key concept. Homework Helpster is the one reference every 5th grader needs. Homework help is on the way!
Publisher:
Play Bac
Author:
PlayBac
ISBN:
9781602140028
Pages:
248
Format:
Spiral-bound
Dimensions:
16.84 x 0.41 x 20.32 cm
---
More from this collection