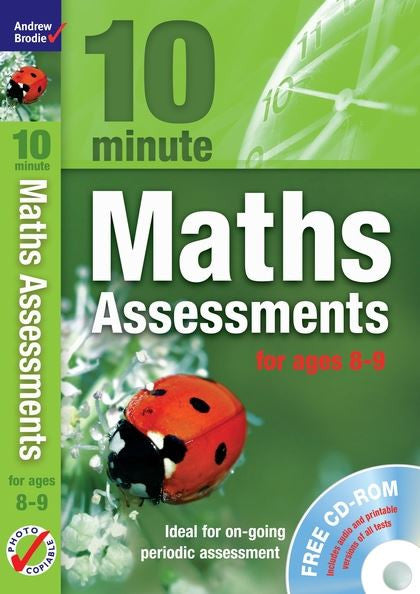 Andrew Brodie 10 Minute Maths Assessments Ages 8-9 With CD
---
Ten Minute Maths Assessments closely matches the Primary framework and also ties in extremely well with the Williams interim review which states 'A renewed and sharper focus on the use of mental mathematics would be beneficial, and would particularly help under-attaining groups of children'. The tests are quick and easy to administer and would provide a 'snap shot' of where each pupil is - perfect for on-going periodic assessment
introduced as part of APP.

Andrew has analysed the Primary Mathematics framework carefully and worked out the number of learning objectives that can be successfully tested in each year group. By taking the framework and breaking it down into small 'steps for learning' each test focuses on what the pupils are actually learning in class. The teacher can then give the test to a group of pupils, who have been working on one of these steps, to monitor their progress. The teacher records the results on the assessment grid and, over a period of time, builds a clear picture of each pupil's NC level. This approach is very much the thrust of the latest developments in assessment: Assessment for Learning, Assessing Pupils' Progress, etc. 
Publisher:
Andrew Brodie Publications
Author:
Andrew Brodie
ISBN:
9781408110782
Pages:
96
Format:
Paperback
Dimensions:
8.3 x 0.2 x 11.7 inches
---
More from this collection