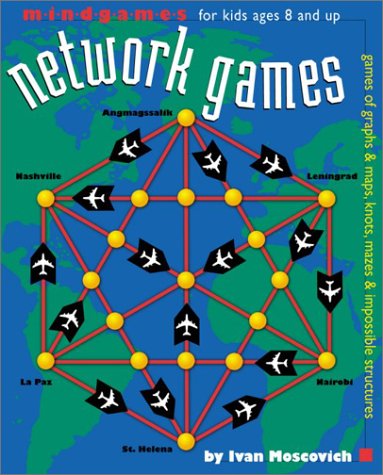 Network Games Mindgames For Kids Age 8+
---
Think outside the box!
Knot or Not, Petunia's Pickle, Mole City and the Mad Maze of Dr. M
Games of graphs & maps, knots, mazes & impossible structures.
Beginning with the cover game of Put a Spin on It—an ingenious test of thinking about connections—here are 19 fascinating puzzles that flex the mind.
Take the network challenge and tackle the bridges of Königsberg. Arrange a perfect seating plan for a party of friends and strangers. Navigate the cave maze, and use a chess board to attempt the three-hundred-year-old Crossed Knight's Tour problem.
Bring a pencil, but remember—(1)

 

you don't have to be a whiz to play, because

 

(2)

 

the most important skills you'll need are curiosity and an open mind. (Solutions and explanations are provided, of course!)
Publisher:
Workman Publishing Company
Author:
Ivan Moscovich
ISBN:
9780761120193
Pages:
24
Format:
Hardcover
Dimensions:
8 x 0.2 x 10 inches
---
More from this collection