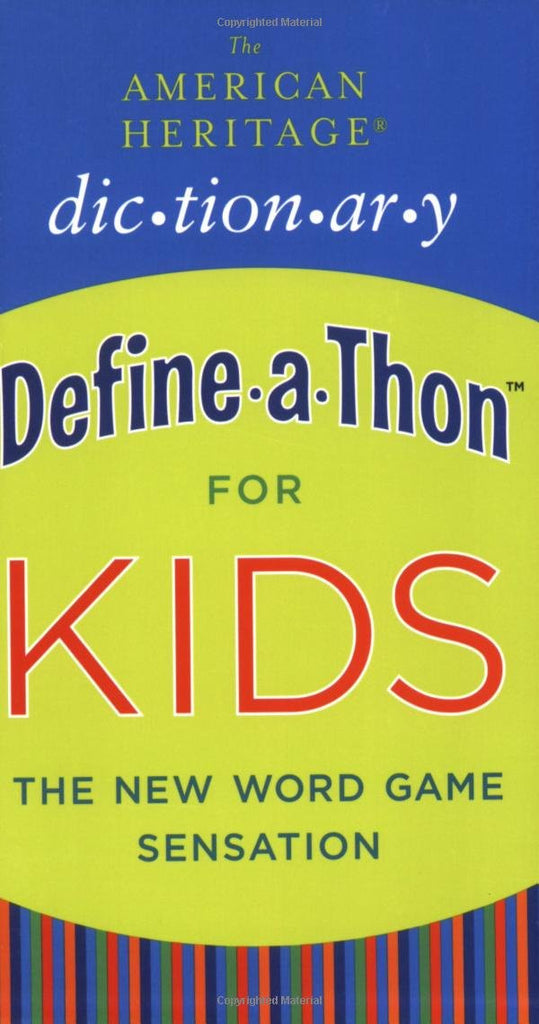 American Heritage Dictionary Define A Thon For Kid
---
The new word game sensation is now a book for kids that will help them develop a love of words and language. Thousands of high school students and their parents have taken the American Heritage Dictionary Define-a-Thon challenge in books designed for high school freshmen and high school graduates. Now elementary school wordsmiths can test their vocabulary skills too, with a Define-a-Thon book just for them.

The American Heritage Dictionary Define-a-Thon for Kids is arranged in two parts: a quiz section followed by an answers section. In the quiz section, contestants are given a definition along with four candidate words, only one of which is correct. The other words are usually similar in form or sound to the correct word, making the challenge tricky and thought-provoking.

The answers section reveals the correct answer in dictionary format, gives a brief word history, and explains what the incorrect answers mean. Kids will also see the correct words in example sentences or in quotations from well-known books assigned in elementary school such as A Wrinkle in Time, The Hobbit, and The Indian in the Cupboard.

This book offers a fun way for young students to get interested in and learn new words. A strong vocabulary will stand them in good stead throughout their lives, in school and beyond.
Publisher:
Houghton Mifflin Harcourt
Author:
American Heritage Publishing Staff
ISBN:
9780547026770
Pages:
96
Format:
Paperback
Dimensions:
8 x 4.5 x 0.3 inches
---
More from this collection